After a thorough inspection of your house, perhaps you feel that your roof isn't what it used to be and could use some cleaning, yet you don't know where to start. Fortunately, Roofers Wirral are here to provide you with professional roof cleaning services.
We are leading innovators of expert roof cleaning solutions in Wirral creating spotlessly clean roofs. We are committed to providing top-tier roofing service. A dirty and poorly maintained roof can dramatically affect a roof's lifespan and the integrity of the building. A good roof doesn't just require quality materials and installation; it also needs quality cleaning to perform successfully.
Serving All Types Roofs
Does your EPDM flat roof need cleaning? Or maybe you have a metal roof? Or perhaps your TPO flat roof needs some work? Regardless of your type of roof, we are the team you can trust to deliver exceptional cleaning services and excellent customer services. Our team comprises of specially trained contractors. We've spent years working with a variety of roofing systems and are adept at what we do. So you can relax knowing you'll we'll be cleaning your roof with the equipment, experience, and expertise it needs.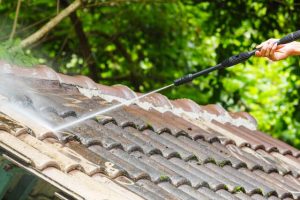 We Stand By Our Work
Whether we are cleaning K-style gutters or cross gabled roofs, we will give it our all. Our team will always exceed your expectations and make sure that they deliver nothing short of quality workmanship and services. We pride ourselves on providing competitive roof cleaning services and having a plethora of happy clients. No job is too small; we'll always deliver amazing results.
We Have What It Takes
Are you interested in eco-friendly roof cleaning services? We've got the right cleaning products just for that. Are you worried that your shingles might be affected by cleaning products? Don't be; you can rest assured we will use green, non-bleach cleaning shampoos that are safe on all fiberglass and asphalt shingles. Moreover, our cleaning products won't harm your landscape.
Everyone in our team is not only experienced but also friendly and professional to make sure you have a great experience. Cleaning roofs can be quite challenging. For this reason, you need experts who will take all the necessary precautions when cleaning your roof.
Without proper roof cleaning services in Wirral, you could be dealing with troublesome and expensive roof deterioration. So, leave the nuances of roof cleaning to us! Need to learn more about roof cleaning options? Give us a call today!